Do you know about the steps of first aid? First aid is the art of medication in some emergency cases. For example, if an accident happens, you need the first aid process to heal the wounds of the victims primarily. It needs to ensure that a victim would get first aid services at the quickest time. Quicker first aid service enhances the chance for him to recover fast from his accidental damages. First aid makes the job of a doctor easier. It helps the patients to get rid of the challenges, like bleeding, breaking bones, etc. Quite bandaging or applying antiseptics to the wounds helps them to heal their injuries faster.
First aid is a critical process, and it needs strong expertise. General first aid at home and first aid at commercial places or healthcare centers are not the same. A lot of differences are there, and the presence has made the gap of the trained fast aid service providers. So, if you are an enthusiastic first aid mental health service provider, here is a guide for you about the basics of first aid services. Step by step and basic methods of first aid will be described here and thus have a keen watch on the next portion of this article:
1. Steps Of First Aid – Judge The Surroundings
The first and foremost thing is evaluating the situations. Hence, this is undoubtedly one of the essential steps of first aid. Check the surroundings to understand how an accident or mishap has taken place. Basically, this will give you a lot of ideas about the types of wounds that victims have obtained. When you know the nature of damages, it will become easier for you to serve them properly or to heal their wounds primarily. It is essential for your safety, as well. For example, if the mishap has been caused due to electrical hazards, then possible fire hazards may also have been taken place. Thus, you must wear safety accessories in such situations to make yourself protected from the dangers. While saving the victims, do not make yourself a victim – this is the basic thumb rule of first aid.
2. Call The Doctor Or Call For Help
If you notice that hazards have taken place in a large area, then you possibly need more helps from the other buddies. Call police, as well as medical units, immediately to make the situation under control.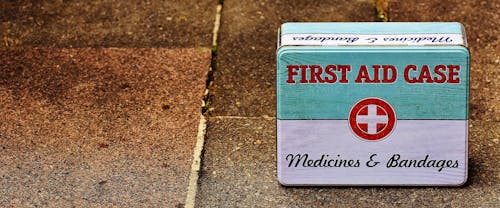 3. Steps Of First Aid – Caring Unconscious Person
Taking care of unconscious persons is crucial. It is essential to bring back the consciousness of a person. Otherwise, further physical damages or risks of death may come into play. Give water to the person and rub his hand as well as feet palms. It will alleviate the blood circulation, which has disrupted. If blood circulation takes place properly, the person will soon get back his conscious.
4. Chest Compression
If rubbing palms of hand and feet does not prove to be effective, then try out chest compression. It is one of the commonest as well as the necessary steps of first aid. For the process, proper knowledge of first aid is essential. Do not put too much pressure as that would harm the person's breath.
First aid treatment is considered as one of the best treatments before the doctors come to check the patients. First aid can save a life if approached correctly.